Bacon fat can take almost any good recipe to something great. The extra fat left over from your breakfast crispies can add a mouth watering flavor to both savory and sweet concoctions. Today I have another great use for your precious bacon fat, doggie treats anyone? Save up your fat over the course of 3-4 bacon breakfasts and you'll have enough to make this great bacon flavored dog biscuit recipe.
Now because bacon contains extra sodium and can be quite fattening I did not include any bacon bits in this recipe but feel free to add it if your dog loves it. You should not make it too often though. You can also use chicken or turkey fat as an alternative to bacon fat in this recipe.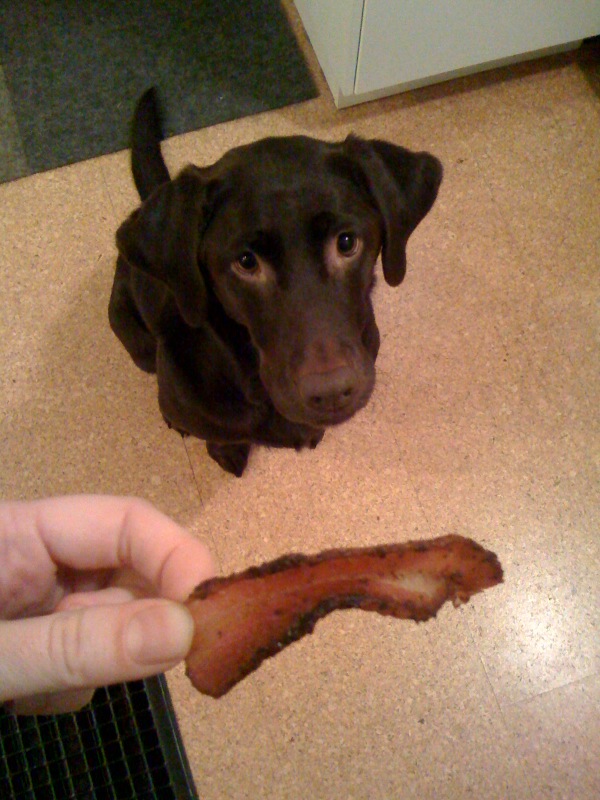 Ingredients
1/8 cup bacon fat
2 ½ cups whole wheat flour
¼ cup flax seed (grounded)
¼ cup wheat germ
2 teaspoons baking powder
½ cup smooth and creamy peanut butter
1 egg (beaten)
1 cup water
2 pieces cooked bacon (optional)
Instructions
Before you begin preheat your oven to 350° F
Whisk together the whole wheat flour, flax, wheat germ and baking powder in a large bowl.
If you're using bacon pieces crumble it on top of te flour mixture and blend so that it is evenly distributed.
Scoop the peanut butter into a small microwave safe bowl and warm it up for about 30 seconds.
Beat the egg in another small bowl and pour in the peanut butter, bacon fat and water as you whisk. Do this until all the ingredients are thoroughly combined.
Pour this mixture into the bowl with the dry ingredients and stir until well combined.
Knead the dough until smooth with your hands.
Roll out the dough to ½ inch thickness on a lightly floured surface.
Cut out your desired shapes and placed on a lightly greased baking sheet.
Place in the preheated oven and bake for 20-30 minutes.
Turn the oven off and let the treats sit in it for an extra 2 hours so that it hardens up and becomes crispy.
Store the biscuits in an airtight container. They will stay fresh for up to two weeks in the refrigeration or up to 2-6 months if frozen.