Bananas have all sorts of benefits for us humans but did you know that they can also be beneficial to your dog's health and brain? You have to be careful of the people food that you give to your dog but one thing is certain, dogs love bananas and bananas are really good for them. If you're taking your dog through strenuous routines or taking him out for long intense walks daily banana treats will give him an extra boost of energy. Here is a tasty and healthy banana cinnamon dog biscuit recipe that your dog will absolutely love.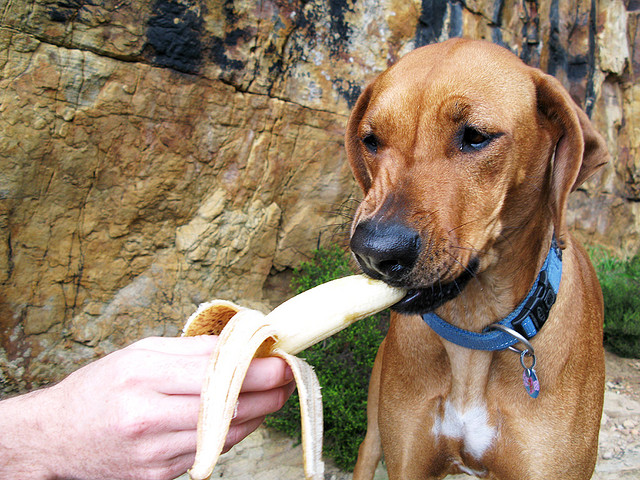 Ingredients
1 cup all purpose flour
1 cup whole-wheat flour
1 tsp cinnamon
2 tsp baking powder
1 large ripe banana (mashed)
¼ cup peanut butter (unsalted)
½ cup carrot (grated)
1 cup water
Instructions
Before you begin preheat the oven to 325 F.
Add the whole wheat flour, all purpose flour, baking powder and cinnamon into a large bowl and blend thoroughly.
In another smaller bowl mix the mashed banana, carrot, water and peanut butter until thoroughly combined. The mixture should be smooth and without lumps.
Pour the mixture into a well made in the dry ingredient mixture and mix until firm and smooth.
Place the dough on a lightly floured surface and knead until smooth and firm. The dough should be firm, not hard or sticky.
Roll the dough out to a thickness of ¼ inch and use dog cookie cutters to cut out to your desired shape. Use larger shapes for bigger dogs and smaller shapes for smaller dogs. You can also just do a variety of different shapes and sizes.
Line the cookie sheet with parchment paper and place the dough on it. Bake in the oven for 30-45 minutes or until golden brown.
Leave the biscuit in the over overnight or for 2-3 hours after turning off the oven so that the biscuits are hard and crispy.
Store in an airtight container to maintain freshness. These treats will last for a few weeks in the refrigerator.